Lincoln Cottages Winners of the SA Venues 2018 Guest Choice Award
Posted on Wed October 24, 2018.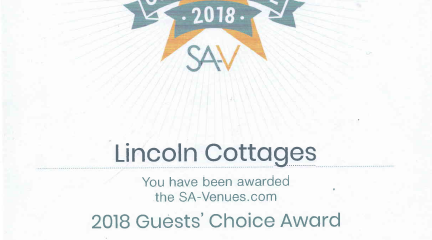 IN GOD WE TRUST... FOR WITH HIM, NOTHING IS IMPOSSIBLE.
What an unexpected award . Lincoln Cottages was awarded 2018 Guests Choice Award.
A special thanks to the dedicated team of employees serving Lincoln Cottages, without which this award would never have been possible.
To: Carmel, Simphiwe, Beatrice, Bali, Shernice, Lindeni, thank you for a job well done!
Ken and Monica Phillips
LINCOLN COTTAGES
Congratulations
Lincoln Cottages
We're so pleased to inform you that you have been chosen as winner for 2018 in the category Best Self Catering Cottages in Pietermaritzburg in the first ever annual SA-Venues.com Guests' Choice Awards.
Lincoln Cottages is the
Best Self Catering Cottages in Pietermaritzburg
as voted for by SA-Venues.com guests
Award winners were chosen by our guests, based on a number of factors including direct feedback received, number of positive guest reviews, surveys done with past guests, and repeat bookings made. (Please note, the SA-Venues.com Guest Choice Awards will only be awarded to a limited number of winners each year, in order to keep it relevant and meaningful.)