Faith Prevails
Posted on Wed March 21, 2018.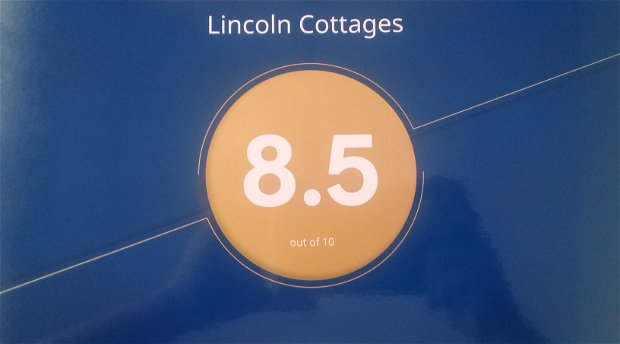 Timothy 4:10 "That is why we labor and strive, because we have put our hope in the living God, who is the Savior of all people, and especially of those who believe"
What an excellent day it is here at Lincoln Cottages! Once again we celebrate the arrival of our award from Bookings.com. We made it through the hard times and are proud to announce that due to the hard work and dedication of all staff and of course to Ken and Monica Phillips who not only guide us but also get hands on involved and don't mind going out of their way to ensure maximum guest satisfaction We have managed to receive a number of awards.
Firstly we are extremely proud to announce that we have for the third year running been rated Superior by The Accommodation Association (AA). this is an absolute honor as they have severely high standards, upon the inspection George(the lovely gentlemen grading our BnB) even went so far as to check each grater for rust and each toaster for crumbs, upon finding nothing he inquired as to whether we had purchased new toasters and graters for the grading he was surprised to find out we hadn't. Well don't to Carmel, Nana, Beatrice and Nosipho for your excellent housekeeping skills which could not be faulted. George also loved the blissful relaxing atmosphere in our grounds with the new waterfall and beautiful flowers. It was called rather tranquil and luxurious a perfect place to escape the busy everyday life! For all these renovations in our gardens there are two main people that need to be congratulated firstly Ken for his brilliant ideas (which of course Monica helps to tweek until perfection) and for Sim who creates these masterpieces. Sim you are our maintenance man, landscaper and recently our builder too. All in All it is clear we were blessed to receive this award.
Our next award that id like to mention is from bookings.com they give awards based purely on guests reviews so for this award id like to thank all of our guests who stayed with us. We received an 8.5 and here are some of the reviews we especially cherished.
Very comfortable, nice linen. Good Wi-Fi. Fabulous breakfast served in the room was a treat. Pool excellent.-Michael
It was a lovely cottage, very comfortable and the staff were so helpful and friendly. Beautiful garden and very peaceful."- Alexandra
We are also currently waiting to be four star graded by the South African grading council. In the mean time our renovations continue. coming soon we have "Libertos" our new Cottage which sleeps 5 people and has 2 bathrooms as well as a fully self-catering kitchen. We are also improving our staff accommodation and soon to be adding a new pool. We are an ever expanding business and we would surely be no where if it wasn't for the grace of our Lord. one more thing that makes us unique is that most Fridays Ken and Monica call us into a meeting and we all take time to share in prayer and worship the lord. We thank you for doing this as it truly is a beautiful way to end the week. 
A few reasons as to why we are exceptional Free unlimited wi-fi secure parking Dstv fully furnished kitchen, breakfast in bed and to find out more about Lincoln Cottages you can go to our web page at www.lincolncottages.co.za please make sure to view our virtual tour. to inquire or make a booking feel free to call us on 033 396 4576 or email us at [email protected] we look forward to accommodating you and making you feel truly at home!